[please login to make this ad block disappear]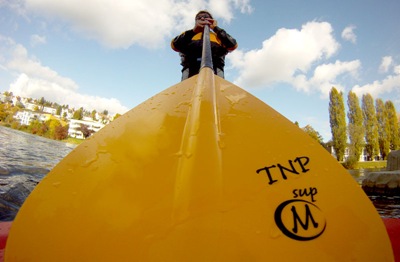 Independent Playak review of the TNP SUP M paddle.
Product
TNP is a paddle and oar manufacturer from the Czech Republic. They make paddles for virtually all disciplines: whitewater kayaking and canoeing, dragon boating, sea kayaking, kayak fishing, and now they also have a lineup for Stand Up Paddling. There are three main versions of the SUP paddle: S, M and L, and all of them can be had with a variety of shaft types.
The official summary from TNP reads: "You can choose from three different types of well-balanced blade shapes, each specially designed to fit exactly your performance, e.g. SUP L for endurance, SUP M for long distance runs, and SUP S are suitable for juniors or women."
I tested the SUP M with an adjustable (YP) carbon shaft.
Weight
At 730 grams, the weight of the SUP M is very acceptable for a variable length paddle with a polycarbonate blade and a wooden grip. The product photo below shows the SUP M with a regular straight shaft.

Shaft
The slightly roughened carbon makes the shaft look classy and silky and provides a bit more grip than the standard glassy finishing seen on many other shafts.
Under stress, the shaft is nicely stiff and solid.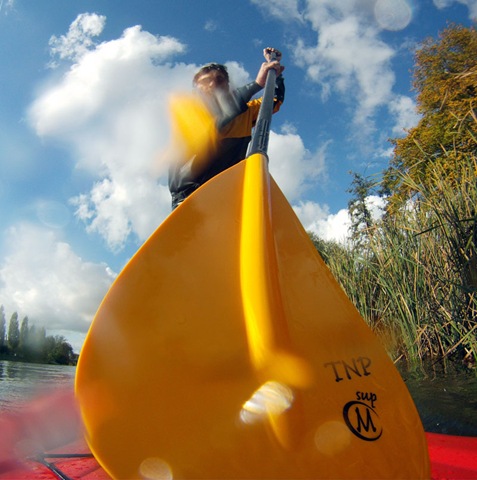 I tested the variable length YP shaft, which of course is very handy if you want to be to be able to change the paddle length, e.g. if you use it in different conditions, or on different boards, of if you what to share the paddle with your friends. The shaft buckle was probably originally designed for kayak paddles and has an important disadvantage on a SUP paddle: it hurts when sliding the shaft through your hands to switch sides. After a while I got used to it, but the fact that I didn't swear a lot in the beginning certainly wasn't a merit of that buckle
. Putting a little tape around it certainly solved the issue, but then you loose the main functionality of having a variable shaft in the first place of course.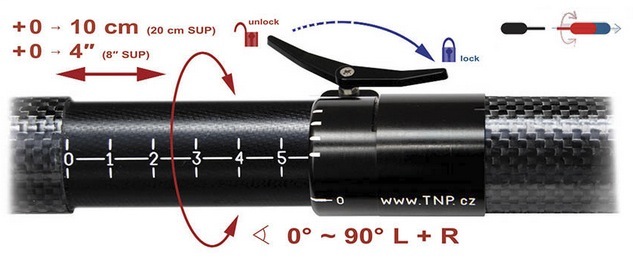 Grip
The wooden knob feels smooth and warm, but I found it a bit too large, even for my large hands. Or maybe it was just the inside angle of the knob – I just couldn't get my thumb around it comfortably. This is not a major issue though, as it's something you'll get used to fast.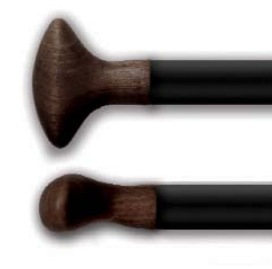 Blade
Considering the blade is made of polycarbonate,  it's stiffer than I would have expected, which is good for my personal taste. The blade doesn't slice through the water very well though. It does it's job, but it's not like the proverbial hot knife in warm butter. For some reason I haven't found out, it creates a zooming noise or feeling when slicing it through the water. For many SUPers this will not be an issue, as they will never slice the blade through the water, but for me, coming from a kayaking background, it is.
The angle of the blade to the shaft is a bit too much for my taste. That's what tastes are for I assume, but I haven't seen many other paddle brands with such large angles.

Conclusion
There are some details that could be improved in a next version, most notably the buckle on the shaft, but on the whole, the SUP M works really well and I found it light enough and stiff enough to comfortably paddle long distances. Being a medium price range paddle, it's well worth the money.
For Playak,
Jeroen