[please login to make this ad block disappear]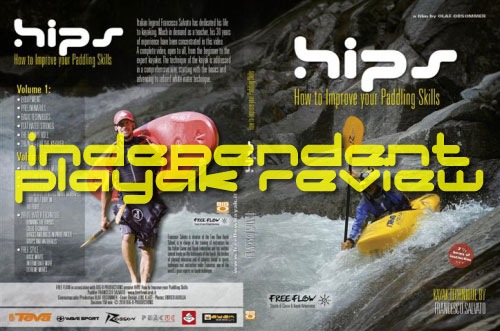 Independent Playak Review of the HIPS DVD – How To Improve Your Paddling Skills.
About
This is an instructional DVD from the beginner to expert stage.
Content
Francesco Salvato has been drawn from his 30 plus years of kayaking experience and assembled 150 minutes worth of instruction onto a single DVD. Split into two 'volumes' the outline is as follows:
Volume 1:
•    Equipment – boats, paddles etc.
•    Preliminaries – outfitting, getting in and out, wet exit.
•    Basic techniques – principles, body and paddle positions.
•    Flat water strokes – forwards/backwards, sweeps, draws, braces, rudders.
•    Eskimo roll – various techniques, including the hand roll.
•    Training for the kayaker – exercises, stretching.
Volume 2:
•    The river and its movements – physical features explained.
•    Safety and rescue – self rescue, throw bagging, signals.
•    Whitewater maneuvers – eddying in and out, the ferry.
•    Whitewater technique – how to run rapids, creeking skills, braces and rolls on the river, drops and waterfalls.
•    Freestyle – surfing waves and holes, cartwheels, blunts, loops etc.
This is one of the better instructional movies I've come across. It covers basically all the topics needed and the explanations and footage will help you to understand what needs to be done. It is really great.
Music
There isn't really much music as it is an instructional film.
Conclusion
This is a great instructional. Francesco has managed to piece together a great reference for the vast majority of paddlers out there. If you're an intermediate or beginner then this is an absolute must! Excellent value for money and fantastic advice.
For Playak,
Adrian Tregoning