[please login to make this ad block disappear]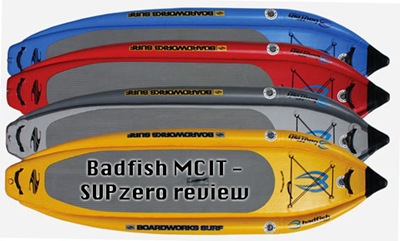 An Independent review of the Boardworks Badfish MCIT 9.0 inflatable SUP board.
Intro
I love the weight of inflatable SUP boards, but since I come from a whitewater kayaking background, I'm just not used to floating so high on the water - it sacrifices tracking and carving. Another important disadvantage of most inflatables is that there is no volume distribution: they have the same floatation per inch back to front, although it make more sense to have some extra volume in the center of the board, and on the sides, at least for paddling whitewater.
As a result, I mostly stuck to plastic boards in the past, even though they are terribly heavy to carry around, and the extra weight doesn't make them very agile on the water either.
The Badfish MCIT aims to combine the best of both worlds.
Test Environment
I (and some friends) thoroughly tested the MCIT 9'0 for this review, in a number of different environments:
Lake Zurich (recreational touring), Switzerland
River Limmat (upriver, downriver-I and standing wave), Switzerland
River Reuss (downriver-II and standing wave), Switzerland
White Salmon River (downriver-III), Washington, USA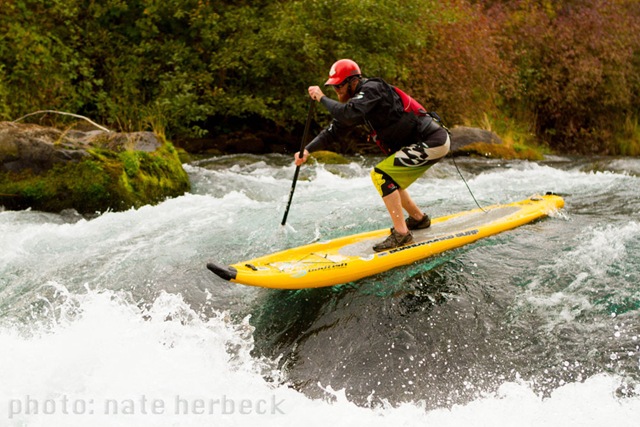 Badfish
Badfish has its niche in making SUP boards for paddling whitewater and surfing river waves, and the MCIT design fits that focus perfectly.
The MCIT is not your ordinary inflatable SUP. MCIT stands for Multi-Chamber Inflatable Technology, meaning that these boards have a high-pressure (15 PSI) dropstitch center deck, and two low-pressure (7 PSI) side tubes. The goals of the tubes are:
Increased Stability
Increased Stiffness
I'll comment on each of these goals below.
Increased Stability
The MCIT is indeed very stable. Since the 4" deck is lower than the side tubes, your center of gravity is lower than on a 6" board of the same width, so the primary stability is good. The secondary stability is very good as well, since the raised side tubes have so much volume. Overall this board is very forgiving.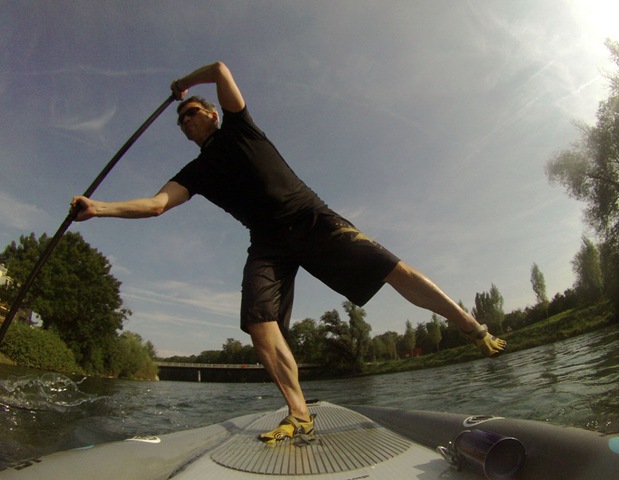 Increased Stiffness
The side tubes do provide some extra stiffness to the board, also because they bend a little and thus help the board keep its rocker. The side tubes are low pressure, so they are not very stiff themselves, but somehow it seems to assist in making the board keep its shape. A 6" inflatable of the same overall size will still be stiffer, but I found the MCIT very stiff for a 4" board of this length.
Improved Volume Distribution
The side tubes are thick in the center and very narrow towards the nose and tail, which means the board is very easy to pivot turn, and even stalling it on either end is really simple, much simpler than with any 6" board.
I tested the shortest of the MCITs and weigh a bit much for that board (84kg/175lbs), so the lowered 4" deck made me expect a lot of water to pile up on that deck, but in practice it wasn't too bad. All I had to do was remember to stand back half a foot further to actively let the water flow off the deck.
Paddling Behavior
The MCIT is the only inflatable I have tested so far that actually reminds me of paddling a kayak. The rocker, the side-to-side hull profile, the secondary stability: it means that paddling through whitewater and carving into eddies feels secure and familiar. In the beginning the narrow center deck made the whole board feel a bit tippy, but when edging more the side tubes start doing their work and provide that extra level of support.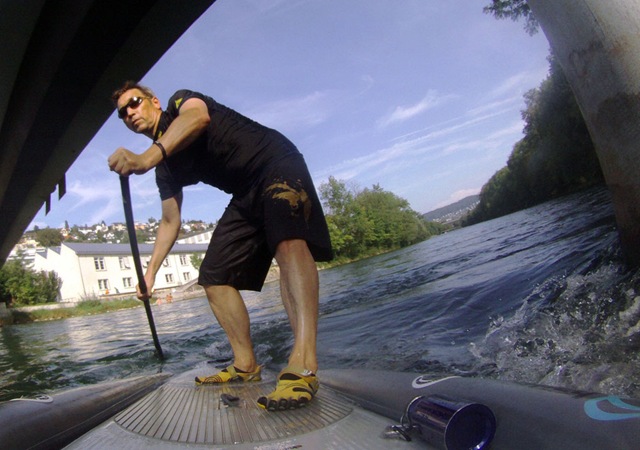 Paddling the MCIT is great fun and reminds me of my early playboating days. The other inflatables SUP I've tried so far were much longer, and compared to those the MCIT is very agile and playful.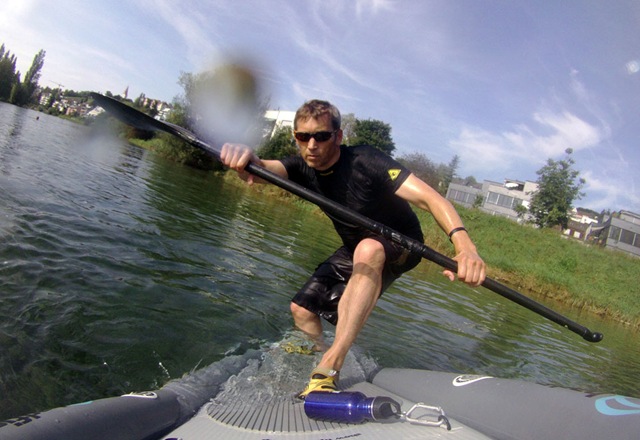 This is a great board for the river, but not a very good choice for the lake – it's just too short for that, and the primary stability is not superb. On whitewater that's easily compensated by the great secondary stability, but on the lake it felt nervous (and slow).
On a wave, the channels between the center deck and the side tubes provide a bit of tracking, but obviously you can carve it like a board with real edges. Overall it felt good on the wave. It didn't pearl much and when it did, it was easy to make it stop with some edging, just like in a kayak.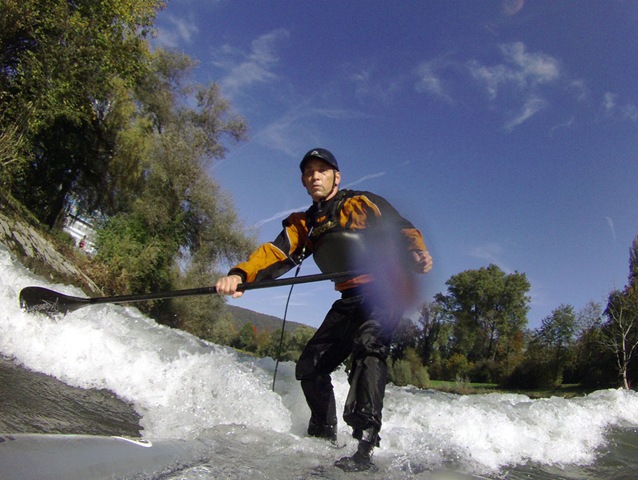 Fin Setup
With the right technique it's perfectly possible to ride the board without the center fin. From a standstill, the first strokes are a bit tricky, as the board really likes to turn without that center fin, but once it's up to speed, it's quite easy to paddle straight. The default center fin is a 9" sliding plastic fin, which can be replaced by other models supplied by NRS.

Package
The package comes with a strong storage bag that can be used as a backpack (it survived an intercontinental flight as check-in luggage), a standard size center fin, and a good hand pump with integrated pressure gauge.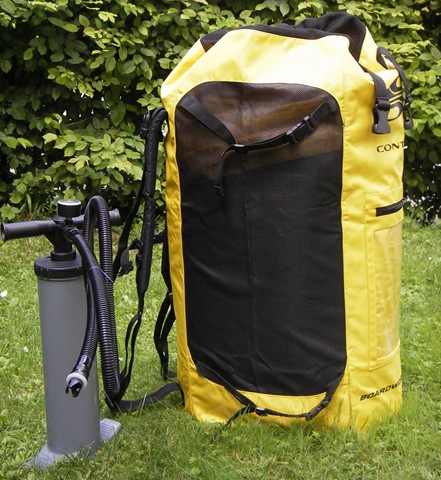 Room for Improvement
I like the MCIT, but since anything can be improved upon, let me list a couple of ideas.
Deckpad: The deckpad has longitudinal grooves and is smooth otherwise. I tend to stand on end a lot during turns, sometimes so extreme that this deckpad just doesn't offer enough grip - a diamond pattern pad would have been better. I would also extend the pad on the front all the way up to the valve, underneath the deck lines. I often stand on that part of the board as well, especially if a board is as playful as the MCIT. Oh, and on the back I will probably glue a real kickpad, which should make it even easier to get (and keep) the board vertical. I realize that this is something that may be unimportant to a lot of users, and also the position of such a kickpad would be very individual, so it will just be my personal improvement, not something that could be glued on in the factory.
Dropstitch: The center deck is made of 4" dropstitch in a line pattern. With the side tubes providing extra stability, the whole board is pretty stiff for an inflatable, but it could probably be even a bit stiffer if a dot pattern type of dropstitch were used.
Fin: Since I paddle a lot on shallow rivers, one of the first things I did was swap the 9" center fin for a shallower 5" one made by NRS. I think it's worth considering if a shallow fin shouldn't be the default.
Neither of these points addresses a serious issue, but I always like to offer at least some sort of constructive criticism J
Conclusion
The MCIT is a unique inflatable SUP. It's great for running whitewater, and there are also two larger versions for those who prefer a bit more speed for touring, and there is even a fishing version. It's not a cheap board (starting just under USD 1400 for the 9' version I tested), but it is definitely worth its price.
For SUPzero & Playak,
Jeroen