[please login to make this ad block disappear]
| | |
| --- | --- |
| | Independent Playak Review: KayakPro Speedstroke Gym ergometer |
Independent Playak Review: KayakPro Speedstroke Gym ergometer
I'm a huge fan of the outdoors and I normally paddle 4 times per week, throughout the seasons. I typically laugh about people watching TV on home trainers and in fitness centers, wondering why they don't take a real bike and breathe some fresh air. This year was different though. Global warming isn't what it used to be and just after Christmas I noticed that I hadn't been on the water for 3 full weeks. This was an excellent reason to re-think my prejudices and finally I decided to try a kayak ergometer.
Assembly


The KayakPro Speedstroke came in 2 big boxes with all tools included and took about an hour to assemble (probably a lot less if you've done it before).
Domestication
The Speedstroke is a large machine. It is approximately 3 meters / 10' long and 2 meters / 9' wide during use. The width is reduced to 0.5 meters / 2' when stowed, but the length is fixed. This length actually serves a purpose: the ropes remain flatter, which gives a more natural stroke feeling.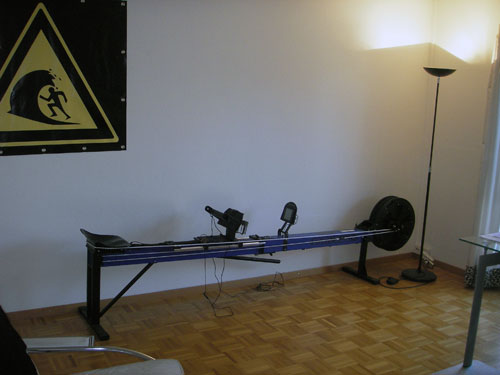 The Speedstroke taking up its minimal space in the corner
I assembled the machine in my living room / Playak HQ and there it had to stay, because it was too long to be moved to another room. I'd have to disassemble it for that, but I decided it could stay. A big advantage of the current location is that I can watch television during my workout, and without that, I think I would find the exercise a bit boring. I use ear phones when watching television, as the machine is quite loud and I don't want to disturb the neighbors too much.
Adjustment
The Speedstroke can be adjusted in two ways. Turning the air inlet on the big wheel changes the resistance and thus corresponds to changing the length of your boat. I'm used to paddling really short playboats and the maximum resistance corresponds to that feeling quite well. The length of the paddle can also be changed and has the same effect as with real paddles.
Monitor
The monitor gives some basic information about speed, RPM (paddles strokes per minute), heart rate, distance, power output and time. Operating the monitor is not very intuitive. The buttons have 3 letter abbreviations that are a bit cryptic: MOD means mode, not modify, DIG means digit, not digital, and changes one digit, although I expected the SET button to do that. Oh well, I mostly use it in one simple mode anyway (counting down 10 kilometers), and it remembers that every time I switch it on, so I only need to touch 2 buttons to get started.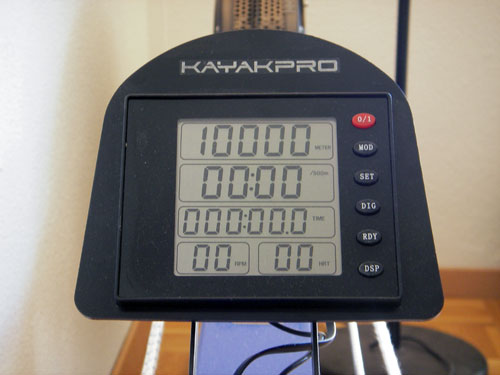 The monitor
Apparently the monitor can pick up the signal of a wireless  heart rate monitor, but it doesn't work with my waterproof Reebok (according to KayakPro, it will pick up the signal of any non-coded heart rate monitor signal, so I guess mine sends a coded signal then). KayakPro also supplies heart rate monitors that work with the Speedstroke. The feature is definitely useful, as reading the heart rate from a watch is not very practical when holding the paddle.
Software
The Speedstroke comes with a USB connection and some simple Windows monitoring software called eMonitor. The software doesn't show much more real-time date than the monitor on the machine, but it has the advantage that you see the numbers in big bright letters on your PC screen. A flaw is that the software does not disable the PC screen saver, so you have to remember to do that yourself. Another function is to be able to record the data of previous sessions – in terms of Stroke rate, time, Av. Heart rate, distance covered, speeds, power output etc. This allows the athlete to monitor his progress and hopefully his improvement over time.
Since the software doesn't add much for my personal training scenario, I don't normally use it, also because of the long USB cable I'd have to pull across the room each time.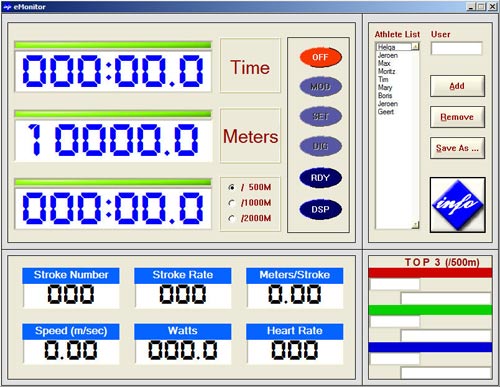 eMonitor software
Another exciting piece of software is Virtua-Race, which lets you paddle virtual canyons and lakes on your PC screen and even race against other Speedstroke owners over the Internet. The software in still beta and I will review that separately when the final version becomes available.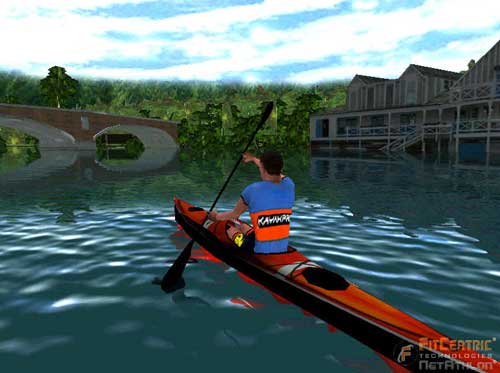 Virtua-Race software
Paddling feel
I'm not sure why this works, but the strokes feel quite natural, with a clear catch, stroke and release phase. It probably has to do with the ropes slipping a bit when pulling the wheel (PS KayakPro assured me that the ropes don't slip, so there must be an other secret to it). The ropes wear quite fast, but after 150 kilometers, it's just visible wear. Should the ropes become too thin, you can turn them around, and should that end of the rope become too thin as well, there's a full set of replacements ropes in the box. If you live to survive all those options, the rope is pretty much a standard rope that you can buy in any hardware store…
Half of the ropes are made of elastic cord to keep the main ropes stretched. This means that there is a certain amount of pull on both sides of the paddle and so you have to firmly hold the paddle with both hands at all times. I normally loosen or even open my offside hand, but that's not possible on the ergometer. As a result, I got blisters in places that I hadn't seen them before: on my left thumb and on the first digit of each ring finger. They turned into callous now, so it's not a problem...
Exercises
There are two main modes on the monitor: time or distance countdown. Once you reached that time or distance, the monitor stops counting. Since I do this purely for fitness and without any competitive goals, I typically set the goal to something very high, like 20 kilometers, and then I paddle for as long as I want to and see what the result was. I must say that I saw a rapid increase in fitness, much more than I would ever get on the water (remember, I'm a playboater, so my normal outside exercises aren't very aerobic).
A kayak ergometer is a pure fitness machine of course. There is never a single technical stroke of course – it's all paddling in a straight line. No currents, no eddies, no wind, no diversions, no sunshine, no scenery, no scouting. That's why I wouldn't want to use the machine without watching television or listening to music. Apropos music: listening to a mix of styles and rhythms makes for a very nice interval workout.
The ergometer also allows ways of paddling that would be totally impossible on the water. One of my favorites became to keep the paddle completely flat, which means that you can paddle by torso rotation only, which obviously strengthens muscles that you don't normally use as intensively.
At the same time, some exercises that I often do on the water are not possible on the ergometer, the main one being backwards paddling. When paddling backwards, you push on you active blade. You can paddle backwards on the ergometer, but since it's not possible to push a rope, what happens is that you pull on the inactive blade. The only way to simulate real backward paddling would be to sit inside the rope-triangle facing backwards, but that's where the monitor is.
One other exercise I discovered is a pretty silly one, but I use it as a diversion every now and then: trim the wheel to maximum resistance and then pull the paddle with both hands over the longest possible distance, i.e. start leaning forwards and end leaning backwards with your stretched arms above and behind your head. Not sure what a fitness trainer would say to this, but it feels good somehow…
I also had the idea to tape some small weights to the ends of the paddle, but I haven't tried that yet.
Conclusion
I came to love the KayakPro Speedstroke much more than I had expected. Sometimes I jump on, even though the sun is shining and I would normally go for a quick session outside.  Getting changed for boating and getting on and off the river is a one hour overhead, so when all I want is a half hour workout, using the Speedstroke saves a lot of time.
Details
Other reviews
Paddling.net has a nice list of short end-user experiences with the Speedstroke.