[please login to make this ad block disappear]
Interview – Omer Singer, kayak surfer from Israel.

This interview was originally produced for the Portuguese Playak partner site  'kayaksurf.net'.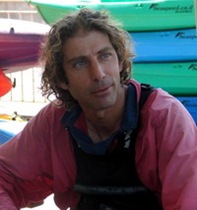 Name: Omer Singer.
Occupation: Kayak Instructor (Sea, Surf & WW) One of the 2 owners of "Terra Santa Kayak Expeditions".
Address: Herzeliya, Israel.
Paddling experience: 20 years of sea kayaking in Wales, Scotland,Ireland, Greece, Egype, Israel, Seychelles, Alaska.... B.C.U level 4 Sea; WW paddling in Slovenia, Ireland, Greece & Israel.
Surf Kayak experience: started with sea kayaks, then moved to WW kayaks. 7 years ago got my 1st real surf kayaks and never looked back...
Personal Website: www.seakayak.co.il
Favorite surf spots: Herzeliya and Ashdod in Israel. Arrifana in Portugal.
Gear: Watertech Ona, Mega Reflex and just now Im trying my new Watertech Wave ski...AT paddle, Gath Helmet.
Hello Omer. Tell us something about Terra Santa Kayak Expeditions...
12 years of running sea kayak trips in Greece, Scotland, Ireland, Seychelles, Japan, Alaska etc...we only use high quality kayaks and our clients are mostly experienced paddlers. we run 3 kayak centers in Israel (Herzeliya, Ashdod & Akko) were we teach sea kayaking, whitewater (on the Jordan river) and surf kayaking. We also have a kayak base in the Dodecanese Greek Islands and in the Seychelles (during winter), and we sell gear as well, such as Watertech, SKUK, Peak UK, Astral, Lendal and more...

You were in Portugal last year. Did you like it?
I took a group of 10 paddlers to Algarve in November, we loved it!
Other memorable expeditions?
Each one of them was special for a different reason: the scenery, the people or the fun on the water. At this moment I do remember leading a group of 12 paddlers into a 300 meter cave/tunnel in "Papa Stour" Island on the Shetlands, it was a bit dark in the beginning, all of us had head torches and there was a nice swell behind us...it was a magical moment.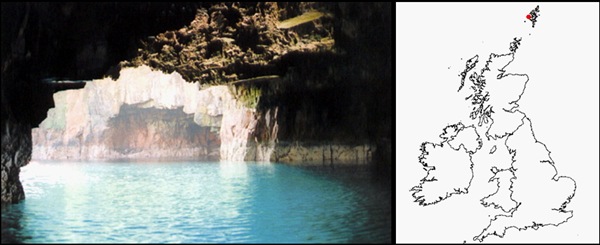 Papa Stour / Shtetland Islands / Scotland
As for surfing, I remember my first trip to Portugal, I was so exited to be on such big ocean waves. I went to Amado beach for what was the biggest wave I had ever surfed, a beautiful 4 meter green wall was approaching and my fear was so big! Only then I noticed that I was the only one on the water... I managed to surf it all the way to the beach and run away to recover from my shock with a good Portuguese wine.
And about kayak surfing... how is this sport in Israel?
A few years ago I was alone. I believe that there were some others but none with a surf kayak, most paddlers were surfing whitewater kayaks. Now there are around 25 surf kayaks in our "Terra Santa Surf group". There are a few more in other spots and every day people approach me who want to buy a surf kayak (good for Watertech...) so now I'm not alone anymore!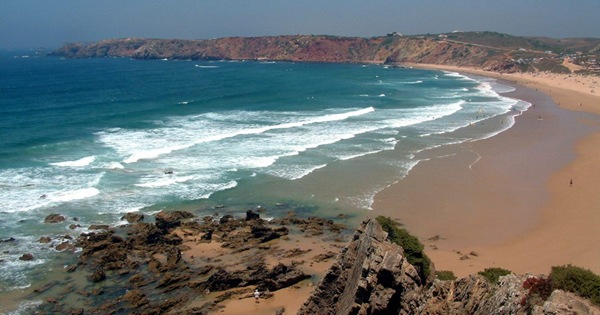 Amado Beach, SW Portugal / One of the favorite surf spots of Omer / photo by photoglobe.info
How often do you surf in the Mediterranean?
I think about 2 times a week all year round. I even try to go for a short session early in the morning before the club activity starts, and even when the surf is small, there is always something I can work on...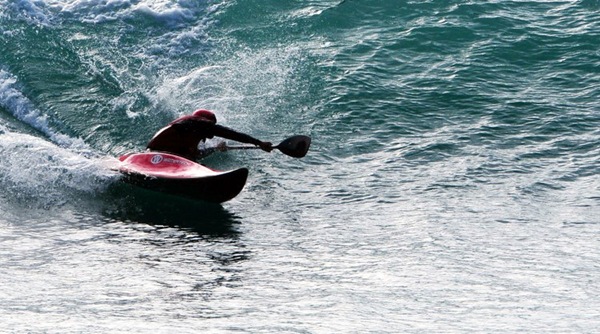 Omer Singer surfing in Israel / Holy Land Photos by kayak Team
As for other surf spots, I don't have much experience in surfing around the world but I just LOVE the Portuguese west coast! It's not only about the surf, it's the food, wine, atmosphere and most important - the people!
You have Mega and Watertech surf kayaks. I remember that Chris Harvey went to Israel for a workshop a few years ago. Do you usually plan these kind of workshops?
We run a big symposium every January for Sea , surf & whitewater. After surfing started to peak up I asked Chris Harvey if he could come for a surf workshop. Chris was so nice, positive, professional and passionate about surfing that we all loved him! Now I'm thinking who else would like to come over to work with a group of enthusiastic paddlers... We have lots of great instructors mostly from the UK since we run the BCU programs. There are also lots of non Israelis that find it too cold to paddle in Europe in January (our water temperature is around 18°C then).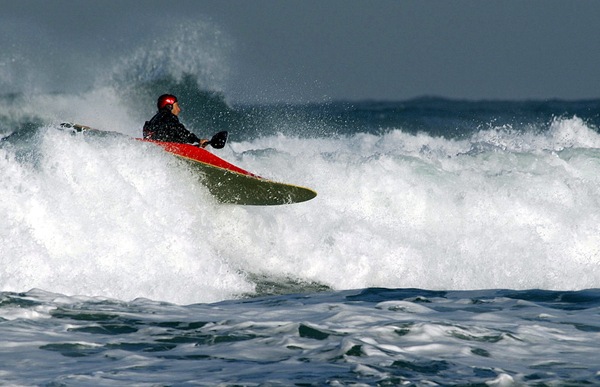 Omer Singer surfing in Israel / Holy Land Photos by kayak Team
And Watertech... how did you get into this surf kayaking brand?
I saw the website and sent Rui Calado an e-mail. He was very friendly and nice and was happy to let "Terra Santa Kayak Expeditions" become Watertech dealer in Israel. First I surfed the 666 IC and was really happy. Since most of our clients are sea kayak paddlers and some are not very young, I believe that the IC is the best intro surf kayak for most of them.
And when will you come to Portugal again?
We'll be back with one more group in November 2010!
What's to best time to come to Israel for a surf?
November-April. It's mostly sand beach brakes and there are lots of good places. It's small, but once there is a depression coming from Europe we can get a nice 1-2 meter surf. And the food is great! Lots of bars, restaurants, coffee shops and nice people. Send me an email and I will be happy to help!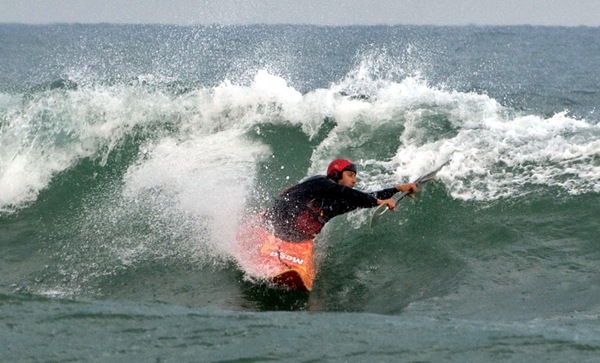 Omer Singer surfing in Israel / Holy Land Photos by kayak Team
Closing remarks?
Even if we come from such a small place where very few people kayak surf , and we don't have competitions (yet), it's nice to be part of the kayak surf world. Thank you!
That's the right attitude Omer! Thanks a lot and see you in November ;)
Text: Luis Pedro Abreu / www.kayaksurf.net
Photos: Photos - Terra Santa Kayak Expeditions photoglobe.com