[please login to make this ad block disappear]
| | |
| --- | --- |
| | Who uses what gear, and why? Part 2: Patrick Camblin. |
Who Uses What, and Why?
This is part 2 in a series of articles on Playak in which we will present some of the world's top paddlers and the gear they use. Now of course these guys are typically sponsored, so I hear you ask: 'how independent can that be'? To which the answer is: we are not talking about the average sponsored Joe the plumber here. This is about people who are so good that they can actually choose from a wide range of sponsors...
In this second article we present Patrick Camblin's gear. As in the first article, we decided to leave Patrick's text mostly unedited.
Enjoy,
Jeroen
Patrick Camblin - What Gear and Why…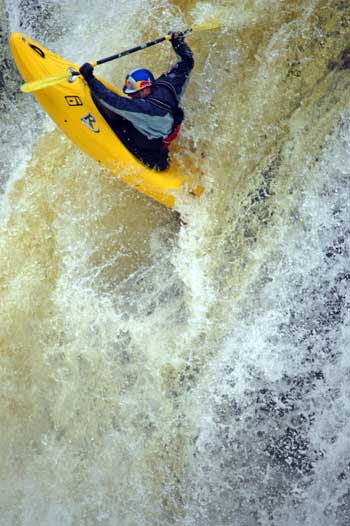 Criteria for choosing brands
Well EJ has already laid down a good description of what to look for in a quality company, and I'd use something similar to the criteria he listed, but obviously we've come to different conclusions which are reflected in our choices.
The most important thing for me to look for is functionality - buy products that work. This means you need a boat that is durable and that will perform for your ability level, a strong, comfortable paddle with power, a PFD with good safety features and enough floatation for your weight, a drytop that keeps you dry, layers that are soft, warm and dry quickly, and a skirt that you have confidence in. Choose products that work and that are designed for the type of boating you do.
I paddle for companies that make quality products with style, whose owners I know (and like), who share a vision of the sport and that go the extra step to make sure they are producing top shelf products.
Kayak Company

Riot kayaks. For lots of reasons, here are a few: Most importantly, they make awesome boats. The owner (Jeff Rivest) is a former badass boater (unfortunately sidelined with an injury), and has a passion for whitewater. Riot is based in Montréal - one of the greatest cities in the world with beautiful girls everywhere, awesome waves, and sick creeks close by (it's also only 3 hours from my hometown). I have access to the factory and they employ some of the coolest and most skilled people in the industry (designer extraordinaire and all around genius Simon Martin, for example).
Paddle

H2O paddles. I've been using paddles designed by Steve Horvath for the last 10 year now… Steve has always designed paddles with powerful forward strokes and great power pockets on the tips of the blade, ideal for freestyle. The grips on the h20 paddles are second to none, they allow for greater indexing and a more natural grip and ya, I like them a lot. I use the h20-team for freestyle and on the steeps and the h20-2 for big water boating…
Drytop/gear
Levelsix. Great people, great company. Tyler and Stig are a couple boaters that teamed up and have created one of the best gear companies in the industry. They make a wide range of comfortable, stylish and functional products - if you haven't already, check out their stuff.
I use pretty much everything they make.
Fleece
Levelsix. Warm, super comfy, light and they don't retain moisture the way the IR union suit etc does.
Skirt
Snapdragon. I've used them for a long time now and it's hard to think about switching to anything else. No, they aren't the driest out there, but they are the least likely to implode and for the type of boating I do that is more important.
I use the 'EXP Armortex Reinforced' deck
PFD

Astral. Boater owned and operated with quality products and an attention to detail, something really important in safety gear. I've been using the Aquavest 300 for a few years now but will be bringing the new Green Vest for this winter's expedition.
Helmet

Shred Ready. Snug fitting system that keeps your head safe.
Shoes

Emerica Heritic III… They might not dry quickly but they are wide, comfortable, and have surprisingly good grip. Plus they've got style.
Clothing

Tribe…
Sunglasses

Smith. Protect your eyes, buy polarized shades and wear them. Smith makes a wide variety of stylish frames with polarized lenses...
Second Choice
The give this series of articles an extra independent touch, we ask every athlete the following question: "If the above companies wouldn't exist, what brands would you be using?". Patrick's answers to that: