[please login to make this ad block disappear]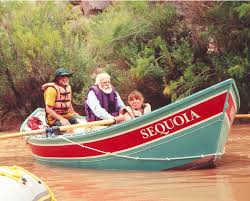 He lived to be 97 years old, and floated the Grand Canyon in a dory for nearly 60 of them (in 2004 at age 87, he broke his own record as the oldest person to row the Grand Canyon). River runners and environmental activists lost one of their most beloved companions with the Nov. 30 death of Martin Litton at age 97 at his home in Palo Alto, Calif., with his wife, Esther, at his side...
A staunch opponent of the construction of Glen Canyon Dam and other dams on the Colorado got his environmental start at age 18 when he penned a letter to the Los Angeles Times in 1935 supporting California's Mono Lake. He was recruited by Sierra Club president David Brower in 1952 to help successfully oppose the construction of two dams in Dinosaur National Monument, beginning his longtime association with the Sierra Club, including serving on its board from 1964 to 1973.

Litton first floated, and fell in love with, the Grand Canyon in 1955. He did it again a year later in a fiberglass Cataract boat, beginning his lifelong love affair with dories. In 1962, he rowed it in a modified Mckenzie River dory, eventually founding outfitter Grand Canyon Dories in 1971 before selling the company in 1988.
A voracious writer and lifelong pilot, he helped Francois Leydet pen "Time and the River Flowing," with photographs by Ansel Adams, and served as the travel editor for Sunset magazine, during which his efforts helped protect Redwood National Park.

In 1968 he wrote "The Life and Death of Lake Mead," and has been featured in numerous conservation-oriented documentaries. Other environmental causes he championed include opposing logging in his beloved Sequoia National Forest and campaigning to drain Lake Powell.

"As has been said by others," says river runner and acquaintence Herm Hoops, "Martin was a giant. A profound loss not only to all those fortunate to have known Martin, but to all those who have benefited from his tireless efforts in his full life. From his first rafting trip through Grand Canyon, arguably no one has had a more profound influence in the Grand Canyon river community."

Adds associate Pat Tierney, former owner of Adrift Adventures, "I talked with him a month ago and asked him to write the preface for my book on the Yampa River. He provided me so much help with it. He gave me many clippings and notes from the Echo Park fight, and some are included in the book. We river runners and nature lovers will greatly miss this eco warrior."
Paddling Life News on Playak is © and presented by: