[please login to make this ad block disappear]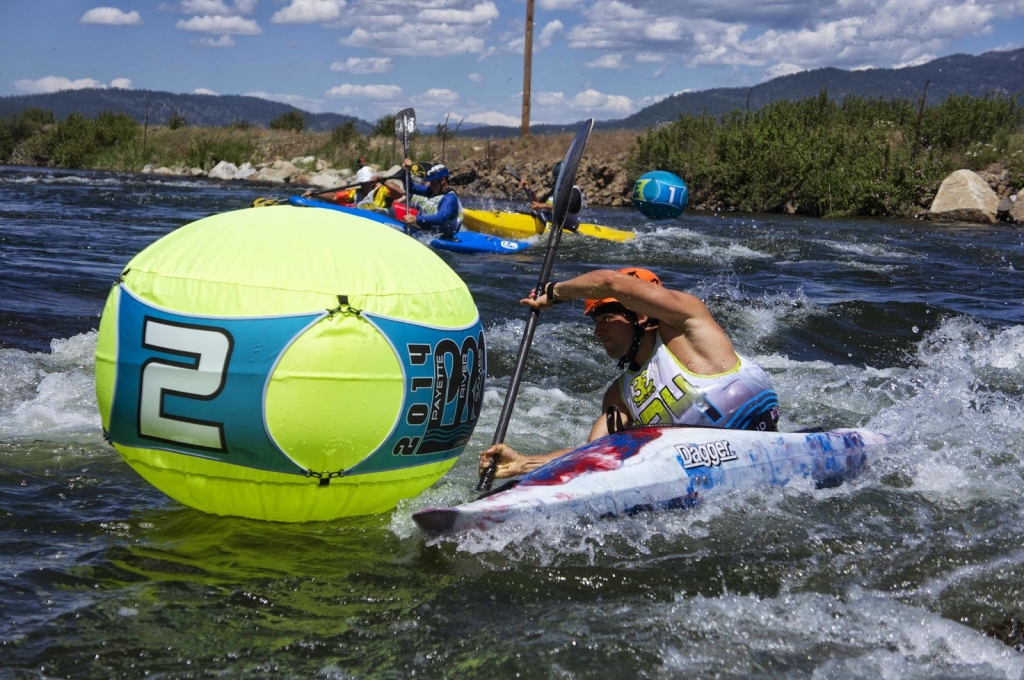 A handful of paddlers are a lot richer - and wiser -- after the completion of the Payette River Games June 20-22 in Cascade, Idaho. In all, over 600 competitors from 16 different countries took part to battle for their place on the podium and their share of a $105,000 prize purse divided up between kayakers, SUPpers and more at the REP-designed Kelly's Whitewater Park.
The fastest paddlers got to choose their vital placement on the ramp before the one-move ferry from river right to river left...
"It was a great turn-out," says organizer Mark Pickard, whose event has quickly become perhaps the best attended whitewater and river SUP event in the country, thanks largely to one of the best manmade play waves in the country.

The event offers cash prizes - in what gets converted into a lot of shuttle money -- for everything from Boater X, Freestyle and 8 Ball to an Expression Session, and even paid out for kid' events in junior and cadet classes. The event also paid out all the way down to tenth place for men and women in Freestyle, Boater X and various SUP events.

Onto the kayak results:

In BoaterCross, a Time Trial Sprint Race seated racers up for the BoaterX rounds, with the fastest paddlers getting to choose their vital placement on the ramp before the one-move ferry from river right to river left, just above the freestyle feature. This resulted in a couple swims, including well-known paddlers like Heather Herbeck. Rebecca Giddens used her slalom skills to take the overall win for the women, with Gerd Serrasolses notching it for the men.

BoaterCross Results
Women
1. Rebbecca Giddens
2. Martina Wegman
3. Louise Jull
4. Claire O'Hara
5. Jen Chrimes

Men
1. Gerd Serrasolses
2. Alex Voorhees
3. Eric Jackson
4. Colden Moore
5. Egor Voskoboynikov

From there, it was onto the Freestyle event on a world-class wave, where Emily Jackson regained her form to pull the win off on her last ride, nudging our Claire O'Hara. The men's event was even tighter, with each competitor beating the previous paddler's highest score for edge-of-your seat excitement. At the end of the day, it was France's Mathieu Dumoulin paddling away with the $3,000 first-place prize ahead of Dane Jackson and Nick Troutman for the men.

Freestyle Results
Women
1. Emily Jackson
2.Claire O'Hara
3. Rowan Stuart
4. Sage Donnelly
5. Adriene Levknecht

Men
1. Mathieu Dumoulin
2. Dane Jackson
3. Nick Troutman
4. Jason Craig
5. Alex Voorhees

In the final kayak event's 8 Ball competition on Sunday, carnage was the name of the game, with flying paddles even serving up a broken nose to one participant. "If people weren't were their full-face helmets in the first round, they definitely changed in between rounds," says competitor Martina Wegman. When the dust and water drops settled, it was Bryan Kirk winning for the men ahead of Troutman and Lousie Jull taking the top spot for the women ahead of Rowan Stuart.

In all, a great time was had by all, with organizers providing entrants with free camping, airport shuttles, t-shirts, live music, free beer from the Payette River Brewery and free admission to the Roxy movie theatre in town. Every athlete also got entered to win a free iPad 4.

"Between the warm water, roaring crowd, warm hospitality, organic food and great music, we're continuing to attract some of the best athletes in the world," says Pickard, adding that the event fits in perfectly into the competition circuit, falling the weekend after the nearby North Fork Championships and two weeks after FIBark, Colorado's biggest whitewater event. "Next year should be even bigger and better."

Info: www.payetterivergames.com

Paddling Life News on Playak is © and presented by: