[please login to make this ad block disappear]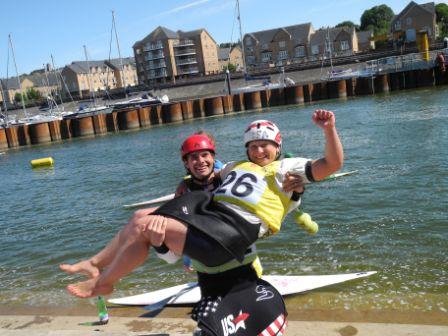 Olympic Cliff Notes: Schedules, Racers, Insider Info and More!
The 2012 U.S. Olympic Canoe/Kayak Team will consist of seven athletes competing in seven events. Those events are:
• Sprint - women's single kayak (K1) 500m Carrie Johnson
• Sprint - women's single kayak (K1) 200m Carrie Johnson
• Sprint - men's single kayak (K1) 200m Tim Hornsby
• Slalom - women's single kayak (K1) Caroline Queen
• Slalom - men's single kayak (K1) Scott Parsons
• Slalom - men's single canoe (C1) Casey Eichfeld
• Slalom - men's double canoe (C2) Eric Hurd & Jeff Larimer
WHITEWATER SLALOM
Venue: Lee Valley White Water Centre
Dates: Sunday, July 29 - Thursday, August 2
FLATWATER SPRINT
Venue: Eton Dorney
Dates: Monday August 6 - Saturday August 11
CANOE/KAYAK 101
There are two Olympic disciplines within canoe/kayak: flatwater sprint and whitewater slalom. Flatwater sprint races are often held at the same venues as Olympic rowing. The London 2012 sprint venue is at Eton Dorney, 25 miles west of London. Whitewater slalom courses involve paddlers making their way through rapids around gates, similar to slalom skiing at the Winter Games. The London 2012 slalom venue is the Lee Valley Whitewater Centre, 20 miles north of Olympic Park. Both sprint and slalom involve canoes and kayaks, although women's canoe is not currently part of the Olympic program. Paralympic Canoe/Kayak was recently voted in for Rio 2016, but will not be part of the London Games.
THE QUALIFICATION PROCESS
The first 2012 Olympic boat quota slots were earned for Team USA by kayakers Scott Parsons and Caroline Queen at the 2011 Slalom World Championships in Slovakia in September, which was the first Olympic qualification event. The rest of the U.S. boats were earned at last chance qualification events. The U.S. earned two sprint kayak slots for London while at the 2011 Pan American Games in Mexico in October. Only a Gold medal at the 2012 Slalom Pan American Championships in Brazil in March would do for the U.S. to earn Olympic slots for singles and doubles canoe. Team USA did just that, qualifying the maximum number of slalom boats - four - for the 2012 Games.
THE SELECTION PROCESS
Sprint kayaker Carrie Johnson was the first canoe/kayak athlete named to the 2012 U.S. Olympic Team. She booked her ticket to London with a first place finish in the Women's Kayak 500m race at the 2012 U.S. Olympic Trials in Oklahoma City on April 20. Tim Hornsby was faster than Ryan Dolan in the Men's Kayak 200m at World Cup No. 2 in Duisburg, Germany in May, to earn the lone men's sprint spot. All four 2012 Olympic slalom boats (and five athletes) were selected at the Slalom World Cup No. 1 in Cardiff, Wales in June.
OLYMPIC SCHEDULE
Sunday, July 29
Slalom Men's C1 Heats 13:30 - 16:30
Slalom Men's K1 Heats 14:24 - 17:30
Monday, July 30
Slalom Men's C2 Heats 13:30 - 16:30
Slalom Women's K1 Heats 14:12 - 17:30
Tuesday, July 31
Slalom Men's C1 Semifinal 13:30
Slalom Men's C1 Final 15:06
Wednesday, Aug. 1
Slalom Men's K1 Semifinal 13:30
Slalom Men's K1 Final 15:15
Thursday, Aug. 2 Slalom Men's C2 Semifinal 13:30
Slalom Men's C2 Final 15:18
Slalom Women's K1 Semifinal 14:12
Slalom Women's K1 Final 15:57
Tuesday, Aug. 7
Sprint Women's K1 500m Heats 10:07 - 10:37
Sprint Women's K1 500m Semifinals 11:16
Thursday, Aug. 9
Sprint Women's K1 500m Finals 10:08
Friday, Aug. 10
Sprint Men's K1 200m Heats 9:30 - 10:00
Sprint Women's K1 200m Heats 10:12 - 10:42
Sprint Men's K1 200m Semifinals 11:02
Sprint Women's K1 200m Semifinals 11:30
Saturday, Aug. 11
Sprint Men's K1 200m Finals 9:30
Sprint Women's K1 200m Finals 10:14
FUN FACTS
• Carrie Johnson will enter a four-year veterinary program at the University of California-Davis immediately after returning from London.
• Carrie Johnson was a gymnast for many years before a broken arm led her to a switch in sports.
• Tim Hornsby's girlfriend Becky Holliday will also be in London, competing for Team USA in the pole vault.
• Tim Hornsby is the first Olympian produced by the Lanier (Ga.) Canoe and Kayak Club, which is based at the Atlanta 1996 Olympic venue.
• Caroline Queen took off the past Spring semester from Davidson College to focus on Olympic qualification but has arranged to earn credits working on projects while traveling.
• Caroline Queen became the youngest woman to make a U.S. Slalom National Team at age 15.
• Casey Eichfeld uses dancing as a cross-training activity to improve balance and flexibility.
• Casey Eichfeld was the youngest solo competitor at a U.S. Slalom National Championships at age eight.
• Scott Parson's wife Lauren Bixby also paddled competitively, making a U.S. Junior Team before injuries cut her career short.
• Eric Hurd has been referred to by everyone as "Butter" since 1999.
• Jeff Larimer is a carpenter.
• USA Canoe/Kayak CEO Joe Jacobi won the Gold medal in slalom doubles canoe at the Barcelona 1992 Olympic Games.
STORYLINES
Sprint to the Finish: The 200-meter distance will be making its Olympic debut for men's sprint kayak and canoe, replacing the 500-meter races. It brings the "fastest paddler in the world" element to the sport, similar to track and field. Also, the spectators can see the race develop from start to finish, usually lasting 35 seconds.
Competing with Crohn's: Carrie Johnson, 28, was diagnosed with Crohn's
disease in 2003, while rehabilitating a elbow injury. The illness left her unable to train in the 2003 and 2009 seasons. Johnson was accepted into the UC-Davis School of Veterinary Medicine and will begin the four-year program immediately upon returning from London. She has decided that the 2012 Games will be her last.
Is Third Time the Charm? Scott Parsons, 32, hasn't decided yet whether the 2012 Games will be his final run at an Olympic medal. He placed 6th at the Athens 2004 Olympic Games and one crucial error knocked him out of medal contention in 2008. He emerged as the most consistent U.S. slalom paddler during the 2012 Olympic selection process. Men's Slalom Kayak is one of the most competitive disciplines in the U.S. but Parsons outlasted a number of
challengers. The veteran paddler hopes his steady hand will lead to the elusive Olympic medal.
Going It Alone: Casey Eichfeld, 22, returns for his second Olympic Games. But this time, he'll be paddling solo as the U.S. representative in Slalom Single Canoe (C1). In 2008, an 18-year-old Eichfeld competed for Team USA with partner Rick Powell in Doubles Canoe (C2). Prior to both Olympics, Eichfeld waited until the last possible race to take the lead in U.S. Olympic selection points and clinch the spot on the Olympic Team. He finished second in the 2012 Olympic selection process in C2.
A True Student-Athlete: Caroline Queen, 20, is a sophomore at Davidson
College in North Carolina, a short drive from the U.S. National Whitewater Center and site of the 2012 U.S. Olympic Slalom Team Trials. She took the Spring 2012 semester off from school to focus on Olympic qualification. She plans to enroll in medical school after completing her undergraduate studies. She cross-trains as a
member of the Davidson club field hockey team. She attempted to qualify for the 2008 Games at 16 years of age. Even now, she's 13 years younger than Olympic teammate Scott Parsons.
Like Fathers, Like Sons: Eric Hurd, 26, and Jeff Larimer, 31, are both following in the wake of their paddling fathers, Mike Hurd and Mike Larimer. The elder Hurd and Larimer trained with each other on the Chattahoochee River just north of Atlanta. Mike Hurd was also a high school All-American basketball player. Mike Larimer narrowly missed out on paddling for Team USA at the 1992
Olympic Games, but he was able to coach the U.S. Canoe/Kayak Team at the Atlanta 1996 Olympics. Surprisingly, their sons have only recently joined forces in doubles canoe. But the duo quickly established themselves as the best C-2 boat in North and South America with a Gold medal at the 2012 Pan American Championships.
Four Years Wiser: Tim Hornsby, 26, attended the Beijing 2008 Olympic Games as a training partner for U.S. Olympian Rami Zur. Hornsby, 26 returns to the Olympic stage - this time as an Olympian - after outlasted teammates Zur and Ryan Dolan in the long 2012 selection process. Joining Hornsby in London will be his girlfriend Becky Holliday, who qualified for her first Olympics in pole
vaulting. Hornsby is the first Olympian produced by the Lanier Canoe and Kayak Club, which has won 10 National Championships. Lake Lanier hosted the canoe/kayak and rowing events at the Atlanta 1996 Olympic Games.
Others to Watch: Slovakia has been dominant in slalom paddling of late. Both the men's doubles and single canoe boats will look to continue their dominance in London. Twins Pavol and Peter Hochschorner hope to earn their fourth straight Olympic Gold medal, while Michal Martikan will race for his fifth Olympic medal in
five Games. Sprint kayaker Tim Brabants, from Great Britain, plans to ride the home course advantage to his fourth medal in three Olympic Games. In between Games, Brabants took time off to complete medical school and is an emergency room doctor.
Info:
www.usack.org
USA Canoe/Kayak Olympic Media Guide:
Click Here
Paddling Life News on Playak is © and presented by: