[please login to make this ad block disappear]
Articles
The 2012 Outdoor Retailer Summer Market from a kid's point of view.
I got an opportunity to travel to the 2012 Outdoor Retailers Summer Show (OR) with my focus on writing about youth kayak gear. OR was fun and it turns out a really good experience. I learned a lot about the industry, especially kayaking. I obviously spent most of my time in the kayak section. The OR Show was huge and there were lots of people there. In addition to kayak gear there were booths for backpacks, shoes, clothes, climbing, outdoor equipment, food and some toys. The people and companies that showed their products sell to retailers that have outdoor products.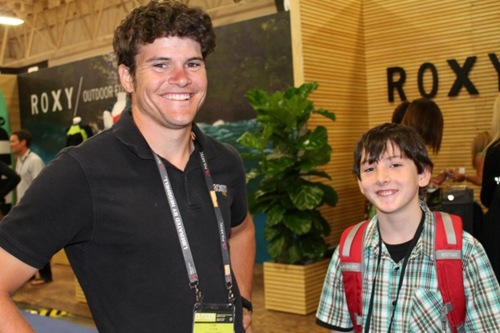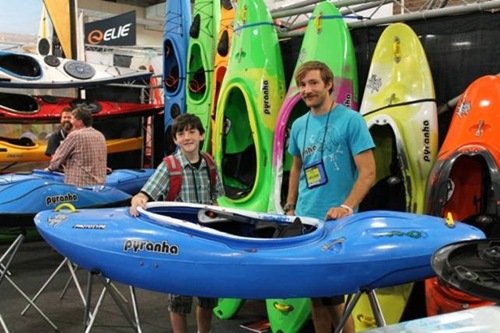 The original youth kayak manufacturers present were Jackson Kayaks. Jackson has the Shooting Star (which I paddle), Fun One, Side-Kick and Fun-Runner. They are one of the few kayak manufacturers that are making freestyle boats especially for kids. Dane Jackson and Courtney Kerin were not there the first couple of days for the show because they were in London doing a freestyle demo for the Olympic Committee in front of the slalom kayaking crowd after the slalom trials were over. The athletes were James Bebbington (GBR), Claire O'Hara (GBR), Motoko Ishida (JPN), Juma Kilakwani (UGD), Dane Jackson (USA) and Courtney Kerin (NZL). This is so that the Olympic Committee will consider freestyle kayaking as an Olympic Event. Isn't that cool? If you would like to read more about Kourtney Kerin's experience at the Olympics here is a link to her story: 2012 Olympics Freestyle Demo
Pyranha is not manufacturing a boat for kids specifically but they have this new boat called a Nano and I am 11 and 95 lbs and I almost fit in it. The Nano has knee pads that curve forward toward the center of the boat, the seat is comfier and the back band completely releases so you can put stuff in the back of the boat. I haven't tried it out on water yet, but I just might this next season here in the USA.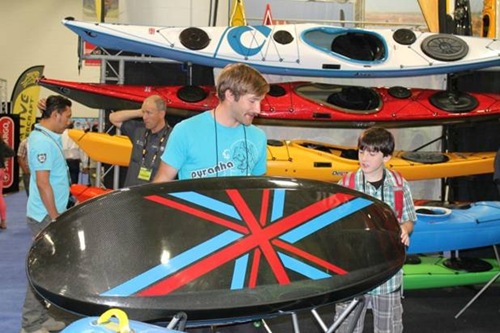 They also have a new carbon boat that ALMOST fits me that is super cool and only weighs 20 lbs. It was light and small and awesome looking. The catch to this boat is that you can only get it on special order from Britain. It has a stylized British flag on the bottom which makes it even cooler. I am still working on my parents to get me one.
There were tons of SUP (Stand-Up Paddle Boards) manufacturers there. I had heard that the popularity of SUP's will double next year. A lot of them make kids boards because they want to get more kids in the sport.
There were hard plastic ones, soft ones, even inflatable ones. I think SUP's are easier than kayaking and there is less of a chance of getting hurt (though a lot would depend on the type of water you are on!). I think parents would be much more likely to let their kids SUP than kayak because you just fall off of them from a standing position. I however, prefer kayaking. We have only seen SUP done on rivers and at Fibark in Colorado where there was a race of SUP's. But most of the SUP boarders are ocean and lake people (which I didn't know).
The SUP kids boards makers that I had a chance to speak with are Pelican, Liquid Shredder, and Badfish (which was the smallest board at 6'11" – I wonder if Mike Harvey made that for his son Miles?)
As far as gear goes, Astral has a new PFD (that I can't wait to try when they start manufacturing it in the spring), it's called the YTV and whatever kind of fabric they use, I tried it on it and it molded to my body. They also are coming out with water shoes that look like tennis shoes and the soles had rubber dots on them and were made of "stealth rubber".
Kokatat has the Youth PFD called the Aries that comes in youth large and looks to be aimed at larger kids. Like all Kokatat products, they make solid and reliable gear.

My good friend Sage Donnelly with Kokatat.
Snapdragon had a spray skirt with these cool optional side straps that you can cinch up on the skirt part and a strap across the middle-front just in case you can't pull the grab loop. Which I have been using for the last year or so and it pretty much fits most all of my boats, including my slalom boats, weird eh?
Sawyer paddles had a new owner called "Crazy Pete" (part of me wonders why he's called that and part of me isn't quite sure I need to know this either). He has these cool wooden paddles for kayaking, SUP and oars. He had just made a special kids paddle for KC Jackson (4 years old) and Crazy Pete's own kid and it had carbon the edges. They also had a kids SUP paddle.
Boardworks makes a very cool kids SUP paddle that comes in 3 sections so you can add to it to create a longer paddle as they grow. Hmmm, I think someone may be on to something here.
Level Six is a great gear company. They make the splash tops like the Merlin which is long sleeve and the Jester which is short sleeved. I personally own and use the Jester. It is a great top for when the water is slightly warmer and the air is warmer. It is a fantastic top for slalom! They have slalom gear which is cool, because I do that too, and they had body arm that was a pull on sleeve that great for when you do a river with sharp rocks. Tyler Lawler, the guy in the booth had been in the Olympics in 2000 for Canada for C-2 slalom kayaking and it was great to speak with him on their products and the Olympic experience.
Also, I think all the companies need to make more kid's gear so we can get more kids in the sport.
For Playak,
Henry Hyde