[please login to make this ad block disappear]
| | |
| --- | --- |
| | Waterfall: USA, Pennsylvania, Ohiopyle, Ohiopyle Falls |
What's it like
A 15 ft clean spout off a slightly slanted sandstone ledge.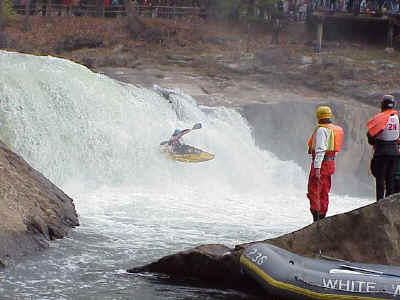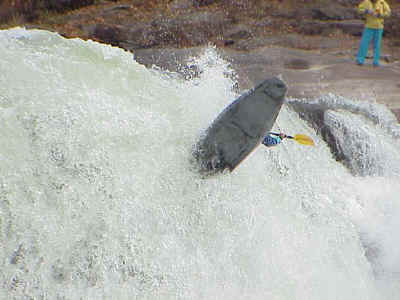 The rapid begins 200 yards above the main fall. The main flow of water is to the river left and for the best line, you want to stay to the right of that main current. The first ledge is 4-5 ft with a horseshoe hydraulic. It is easily negotiated staying river right of this feature. You can also try an alternate route: take a smooth boof and a few quick strokes to clear the hole. If you miss a stroke though you may end up swimming.
The second ledge is shallow and to pencil in here is a sure pin. However, there are rock spins available on river right.
The next route is to drop into the large eddy above the main drop. From this location there are two routes available: the main path is to drop straight out of the eddy into a 10 ft wide green tongue, picking up your speed and aiming for the crease where the diagonal curler (right) meets the a hole (center) about 20 ft above the edge - this is the line for a perfect execution, you will slide left off the point onto a very aerated, 3 ft boil. The second choice is not for the squeamish. You will enter river left (rock spin until your heart's content) and slide into the hole in the center (surfing and spinning):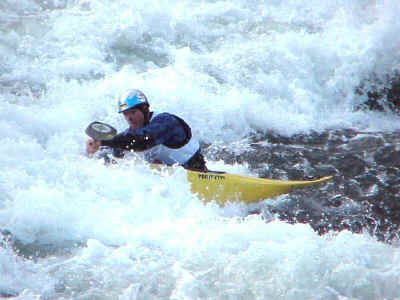 Then enter the main flow, paddle hard to gain enough momentum to clear the hole at the base of the fall.
Dangers: the small horseshoe hole on the first ledge, pinning danger on the second ledge and a big hole at the base of falls with a large recirculation factor. On far right there are undercut rocks: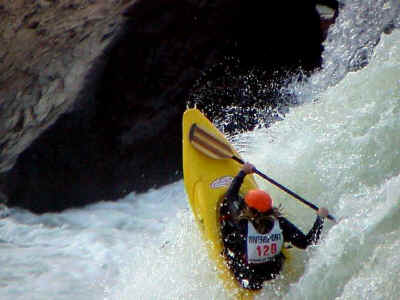 The surrounding WW is class III with temperatures between 85 (summer) and 20 (winter). 1'4" is a good level, above this level the consequences increase.
The only time to run the falls legally is with a permit and race number provided through AWA on the race day to be announced. The first annual run took place on Saturday November 13 1999.
How to get there
Directions from Pittsburgh: Drive east on the PA Turnpike and exit at Donegal. Follow PA 31 east to PA 711/381 south to Normalville, following 381 south from Normalville to Ohiopyle.
More info
Phone: +1 724 329 8591
Pictures, descriptions and results of the first race are available from WVOutside.
Footage
Ohiopyle Falls Race video from Immersion Research: +1 814 395 9191
Info sources
[mail address protected from spambots with javascript] (Tarzan)
All pictures on this page reproduced with kind permission of Don Parks (West Virginia Outside).
| | |
| --- | --- |
| | Nearest weather station (°F): |