[please login to make this ad block disappear]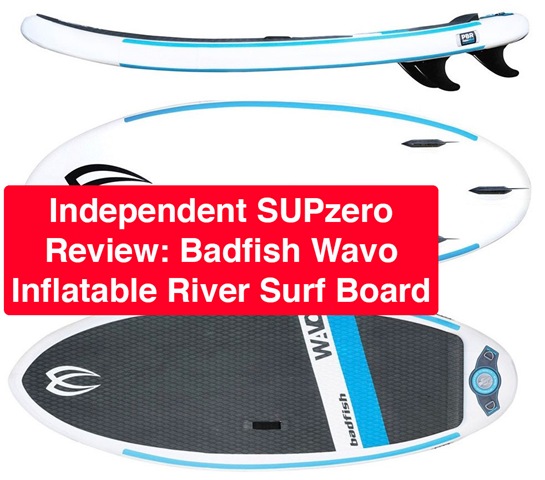 An independent SUPzero review of the Badfish Wavo, an inflatable river surf board.
About Badfish
Badfish is one of the few SUP board brands that have a strong focus on rivers. Based in Colorado, this feels like a natural focus - the owners have been river surfers for many years. They were also the first brand that started making smaller boards dedicated to river surfing.
Positioning of the Wavo
In the Badfish inflatable lineup, the Wavo sits between the also new, and even smaller, Inflatable SK8, and the redesigned IRS (Inflatable River Surfer). The IRS can still be used as a SUP, but on the Wavo, this is not possible anymore, it is just too low volume for that.
Stats:
• Length: 188 cms / 6'2"
• Width: 66 cms / 26"
• Height: 9.5 cms / 3.75"
Badfish's description:
"Anyone who's ridden an egg shape on a surf trip knows it's an incredibly versatile board: the longboard ease of catching waves, the shortboard performance of riding them. The Wavo is Badfish's take on the classic ocean shape but for river surfing. Sitting between the IRS and the Inflatable SK8, the Wavo rides like a shortboard. The added volume will deliver in smaller or flatter waves allowing for a larger range of riders to get more out of their local wave. For bigger riders who need more volume than the Inflatable SK8, the Wavo will be their go-to river shortboard.
Features
• Removable tri-fin
• Slim offset carrying handle
• Travel bag, fins, double-action pump included
• 3-Year Warranty
"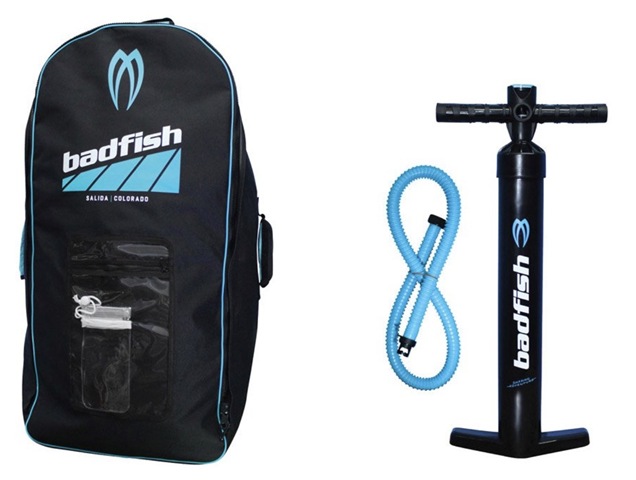 Board
After inflating the Wavo, you'll immediately notice that its rocker is shaped to fit exactly in a short river wave. This shape is important. We have also tried similarly sized inflatable kid's SUP boards, which have a flatter shape, and we didn't have a chance to stay on our local wave with those.
You'll also notice that the board is fairly symmetric, which should make spinning tricks easier to master.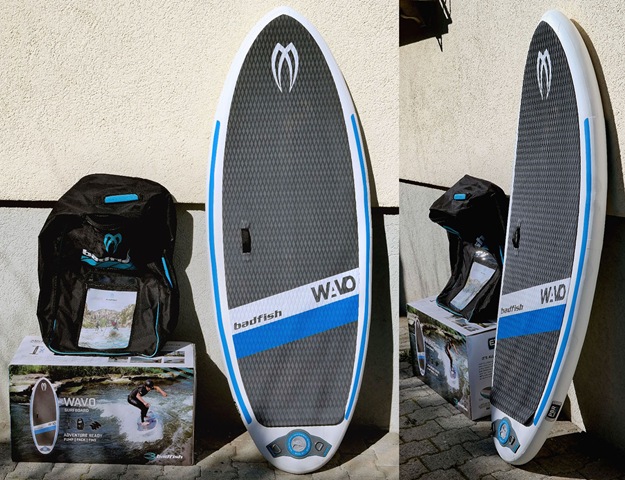 The build quality of everything in the packages looks and feels very good. The double stringers on both top and bottom, plus the triple layers on the sides, make this board very stiff, considering it is only 3.75" thick.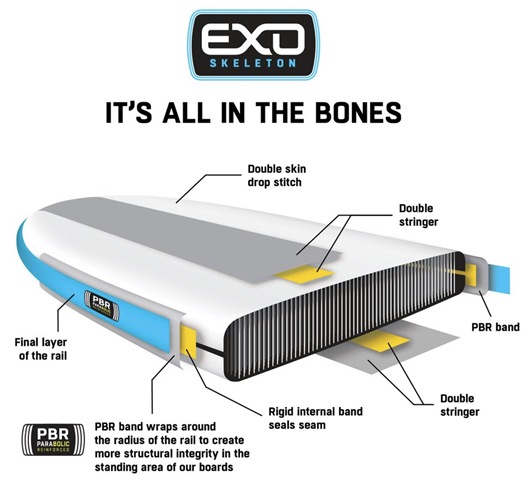 Fins
The Wavo has three small fin boxes and three slightly flexible click fins, which can be secured with a standard FCS key (which we did not find in our package, but we always have some lying around anyway).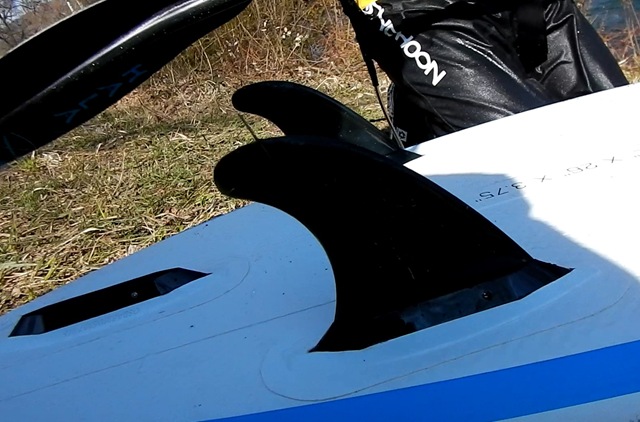 We used the Wavo without the center fin, and if you want to try all the latest tricks, you should rather ride it finless. This may sound a bit challenging, but due to the shape of the board (narrow with pointy ends), it as not as difficult as you may think.
Deck
The diamond cut deck pad covers most of the deck, which is especially handy when surfing backwards. It seamlessly extends into a kick pad on the tail, behind which there are two D-rings for attaching a leash.
I assume the idea behind two D-rings is that you can attach the leash to one side of the board, depending on your goofy or regular stance, or which side of your body the leash is attached to. In practice, I think one D-ring would have been enough, as I had to enter the wave lying down anyway, and since the board is so short, dealing with the leash before standing up was always a little struggle, no matter what side of the board it was attached to. Entering the wave kneeling or standing up is not really an option. Depending on your wave, you may be able to jump into the surfing position right from the eddy, but in that case I personally wouldn't be using a leash at all.
The carrying handle is off center, which may take some getting used to, but this position makes a lot of sense, as this is probably where it gets in your way the least. For carrying the board, this position is fine as well, since the board is so narrow, and light.
Performance
We had a lot of fun with the Wavo, and noticed that this board has different faces. On slow river waves, it's very challenging just to stay on the wave, which makes it great for improving your skills. On fast waves like the artificial City Wave, the board is like a rocket flying over the surface of the water. In this environment, some glue-on foam edges might have improved the carving performance, although such rails wouldn't survive too long on the river I assume. However, at 3.75" thickness, the board feels more edgy than thicker boards of course.
To fully enjoy the fun that this board has to offer, it takes a good mix of:
• Not too heavy paddler
• Fast, steep or even breaking wave
• Easy eddy to enter from
Testing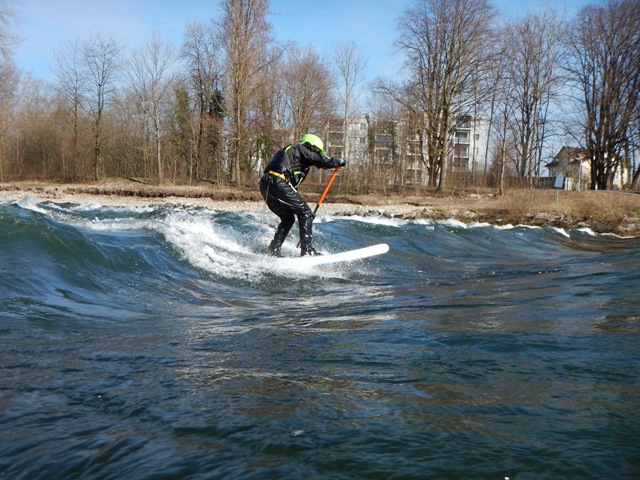 Stefan Ulrich switching stands.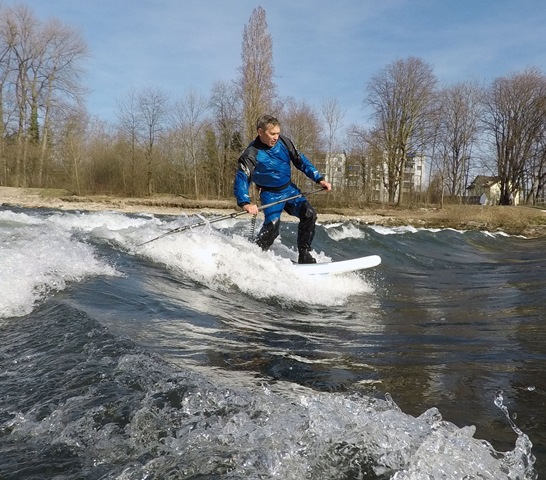 Yours truly weighs 15 kgs more, so I rode noticeably lower in the water than Stefan.
Marcel, our local Citywave guide, is obviously used to narrower boards with sharper edges. Sitting down was kind of fun too…
Hannah Ray J makes these moves look sooooo easy. I tried some of them and can tell you, they are not easy at all. To my defense, my wave is slower, my age is not quite hers, and I weigh a bit more, but even if all those were equal, I'd still be looking in awe at what she's doing here...
Price
The retail price of the Badfish Wavo is USD 799, which seems very reasonable, but you do have to be serious about river surfing to add this to your board collection, as it has a narrow application range.
Availability
For international customers, the Badfish hard boards are not really an option, unless you pick one up in the US and take it back on the plane as a surfboard (which it is of course), but international shipping is just too expensive. The smaller inflatables can be shipped to Europe for roughly $125, plus you have to pay local customs and VAT of course, and you need someone in the US who buys it it ships it per USPS, as Badfish does not offer such international shipping directly. I did hook Badfish up with a European distributor a couple of years ago, but when Boardworks, which handled sales and marketing for Badfish, was bought by Confluence, that distributor had stop the cooperation. In the meantime, Badfish left Boardworks, to become fully independent again, and being a small company again, they have not found a new European distributor again (that is, as far as I know - please correct me if I'm wrong).
Links
• Badfish: https://badfishsup.com/
• Wavo: https://badfishsup.com/collections/frontpage/products/wavo
• City Wave Switzerland: https://oana.surf/en/
Conclusion
The Wavo is a great inflatable river surf board for not too heavy paddlers with access to a fast wave with a good eddy. For those who come from surfing, it may be a bit large, and lack edges, but for those who come from SUP, this is a tiny board. It is so much more agile than any SUP you may have used, and thus requires a very precise surfing technique. As such, it is a fantastic tool to fine-tune your river surfing skills, and with the Badfish pro riders as examples, we all just know that there is so much left for us to learn on this board.
If you are serious about river surfing, I can recommend the Badfish Wavo as a fun and fairly priced addition to your river quiver.
•-For SUPzero/Playak, Jeroen.