[please login to make this ad block disappear]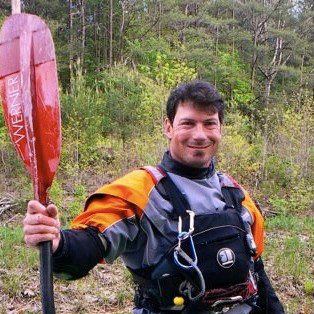 Jeff West Killed in Solo Attempt of the Stikine
Swimming here will be the worst mistake you will ever make. ..
West's death, which reportedly came on a solo attempt of the Stikine, which he paddled in a day with Todd Wells and Erik Boomer, comes shortly before Boomer is planning to make a one-day solo attempt of the run after having paddled it six times (Boomer calls it "the hardest whitewater of my life.")
While additional information is not yet available on the circumstances surrounding West's death, it is clear from posts on his
FaceBook
page, which goes by the tagline "whitewatercoach," that he will be missed dearly.
"Since 2006, if I ever worked with someone on the water or gave advice about improving, I was sharing ideas, concepts and an approach towards coaching and instruction in which Jeff was major influence," writes USACK executive director Joe Jacobi. "We will miss him greatly. Sharing Jeff's spirit and pursuit of the sport with others in the future will be an honor and a privilege."
While the Ueli Stecks and Dani Arnolds of the world are battling it out with alpine speed ascent records (Arnold recently bested Steck's Eiger mark by 19 minutes), in kayaking such brinkmanship is being born out on the Stikine. Boomer plans to make a solo, one-day descent of the run sometime this fall.
"It's a soul project," Boomer told Outside magazine, fresh off a 104-day circumnavigation of Greenland's Ellesmere Island. "I've wanted to be solo in there ever since Doug Ammons did it in 1992. I see it as the culmination of all my skills."
The river drains 20,000 square miles in its 350-mile course to the Pacific, with the crux the 45-mile-long Grand Canyon, a cataract of massive, Class V-VI rapids surrounded by inescapable, 1,000-foot vertical walls.
"It's the next logical step," says Ammons, who took three days to run it solo in 1992 and has been thinking about a solo one-day ever since. "It's a gut-wrenching, threatening place -- you have to have the mindset that you want to be in there alone. It's is every bit the equivalent of soloing a major Himalayan peak."
Still, the stretch has made mincemeat of the world's best, from John Wasson on its first descent in 1981 to Bob McDougall's near-death in 1989, leading to his essay, Drowning, in Patagonia's catalog. In 2001, Scott Lindgren's team ran it as a warm-up for an Outside-sponsored expedition down Tibet's Tsangpo, calling it every bit as hard. Austin Rathman, who swam Site Zed in 2007, says, "The Stikine will change how you view yourself, the world and everyone in it."
Adds Ammons: ""It condenses the sport's full range of experiences and challenges into a single day. You have to be strong enough personally to blend with a place that can kill you."
Friend Hans-Peter Dietrich posts one of West's favorite quotes from Theodore Roosevelt in memory of his friend: "It is not the critic who counts, not the man who points out how the strong man stumbled, or where the doer of deeds could have done better. The credit belongs to the man who is actually in the arena; whose face is marred by the dust and sweat and blood; who strives valiantly; who errs and comes short again and again; who knows the great enthusiasms, the great devotions and spends himself in a worthy course; who at the best, knows in the end the triumph of high achievement, and who, at worst, if he fails, at least fails while daring greatly; so that his place shall never be with those cold and timid souls who know neither victory or defeat."
West, having paddled the Stikine in a day before, knew what he was getting into. In a post from his earlier one-day descent with Boomer and Wells on the
Jackson Kayak
web site, he writes:
"It took the first three major rapids, Entry Falls, Wicked Wanda and Three Goats to build my confidence. I had never seen anything like this type of whitewater. Stacked, huge, complex rapids with monster holes, crushing diagonal waves, three-foot tall surging eddy walls all surrounded by 1,000-foot cliffs. The Stikine makes other rivers seem two dimensional. I had always thought of water flowing downstream, side to side and sometimes upstream. Additionally, on this river the water is constantly exploding upward and sucking down. It felt like a giant roller coaster and monster trampoline combined. I would growl before I hit the big waves.
"These waves are so massive that when you hit them it knocks the breath out of you. I have never been hit so hard by water. When you flip, you better hold on to your paddle like never before. The current wants to wrench the paddle from you. Dropping a paddle on this river could easily kill you. The end result of a Stikine trip is usually black or white. You either succeed or you are lucky to survive. Swimming here will be the worst mistake you will ever make. There seems to be two very different types of Stikine trips. You either have the trip of a lifetime or you are terrified and barely survive.
But he also fully realized how special the place is: "The beauty of this canyon is without a doubt the greatest my eyes have ever seen. The whitewater offers the most amazing, fun and consequential puzzle imaginable. There is so much great whitewater in there. Countless and constant un-named rapids go on for miles. The emotions swirling around in your head as you commit to each rapid is mind blowing. You realize that you are far more dependent upon your paddle not to break, your skirt not to implode and your kayak to perform than anything else. We were not the first or the fastest to one day it, but that was definitely the best six and a half hours of kayaking I have ever done. The Stikine is everything I had dreamed it would be. A brutally consequential puzzle immersed in perfect beauty...
Paddling Life News on Playak is © and presented by: