[please login to make this ad block disappear]
Articles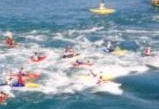 Tidal race: UK, Wales, West Wales, Pembrokeshire, Atlantic Ocean, The Bitches
What's it like
Tidal ocean surfing.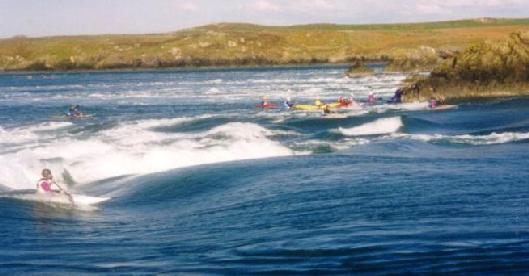 The Bitches are called the Bitches because of the shipwrecks they have caused. The Bitches and the whelps are a line of rocks and reef in between Ramsey island and the welsh mainland (of which the water rushes over). They are well known throughout the playboating and sea kayaking world as some of the best whitewater in or around britain.
For a full write-up, read 'The Welsh Rivers' by Chris Sladdens (pages 339-341).
It's a half mile journey offshore to the Bitches, which are formed as the tide comes in. The water is channeled in between Ramsey Island and the welsh mainland, speeding up in this narrow gap. It rushes over the shallow reef in the channel (the Bitches).
The Bitches are very weather dependent and so are difficult to predict accurately. Usually, the higher the tide, the bigger the water. The bitches are good from about 3 hours before high tide, building with the tide. Rough guide to tide heights:
Less than 5.7m at Milford Haven - Introduction to whitewater. See picture.
Between 5.7m and 6.2m - Excellent for improver level.
Between 6.2m and 7m - Intermediate to advanced rodeo coaching.
Above 7.1m - Hold onto your hats - experts only.
On a good level - 6.5-7m (on a nice day with no swell) - the Bitches will produce a hole, and a couple of large standing waves (upto 8 feet high!). They are generally comparable to a grade IV river. The Hole in these levels is a superb rodeo hole, and is therefore the home to the second biggest rodeo in the UK (next to Hurley). It is deep enough to get just about any boat vertical. All moves can be performed in it (in the right conditions). It ranges in size from a foot high and four feet wide, to four feet high and ten feet wide (this only happens when there's wind or a swell, and it's not permanent: the swell will 'suck' the hole out every couple of seconds so you can escape if you want.
On a very calm day, the wave appears (only at around 6.8m tide+). It may also turn up on a lower tide on a less-calm day. It is between 4 and 8 feet high (near vertical) and 20 feet wide, but there is so much water ploughing through that you'll never get into the trough at the bottom. It's ideal for surfing and flatspinning, but beware, a bad exit from the wave may result in being completely trashed in all the other waves behind! About four people can fit on the wave. It's an amazing place to go, but if there's a big swell (or any wind), go surfing, it's easier!!
How to get there
[More detailed information (149 words, 1 image) is available for registered Playak users - please login or create a free account first to access this extra information]
More info
TYF outdoor center
Locals
Paddlers and surfers everywhere. Other than that, the locals are friendly, and are usually eager to help with anything they can.
Events
Bitches rodeo (more often than not an event of the Euro Cup)..
Info sources
Phill T
| | |
| --- | --- |
| | Nearest weather station (°C): |