[please login to make this ad block disappear]
| | |
| --- | --- |
| | Playspot: France, South-West, Saint Pé de Bigorre, Gave de Pau river, Le Flip-Flap |
What's it like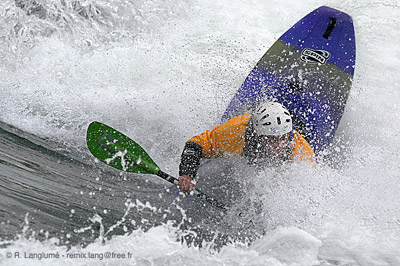 Like Estaing, the spot is a dam with a break in the middle. It creates a very nice breaking wave, 5 meters wide and 1 meter high. The current is strong and permits all wave tricks with great aerial possibilities. There are very big eddies at each side of the spot and there's no kind of danger. The spot is good at all water levels but the best time is during summer (especially July). If the conditions are bad (which is very unlikely), drive down the highway for one hour and you're at the ocean!
In Spring with high water levels there's a second playspot 200 meters downstream, the hole of the "Pont des Grottes", which permits all hole tricks.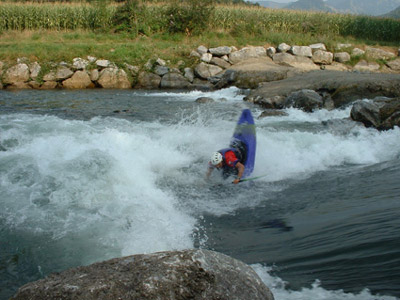 The water temperatures are always very reasonable.
How to get there
From Toulouse, take the A64 in the direction Pau, take the "Tarbes Ouest" exit and drive to Lourdes, then take the direction "Pau par Betharram". You'll cross a village called Saint Pé de Bigorre. Drive 3 more kilometers and then on your left there's the "Pont des Grottes" international slalom court. You can park here. The spot is 200 meters upstream.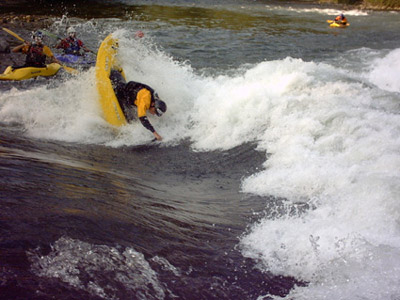 More info
+33 6 84784575 (Fred Lascourreges, the regional freestyle correspondent).
eauxvives.org (French site).
http://team65.free.fr
http://team64.free.fr
Locals
Lot of fishermen, but not around the spot. A lot of raft companies ride the river from April to September.
Events
Every year, a great national free-session takes place on August 14th-15th, called "Flip-Flap'Party" with night sessions, clinics with the French team members, concerts, food and drinks.
Info sources
| | |
| --- | --- |
| | Nearest weather station (°C): |